Welcome to Quakers in Epsom
Meeting in peace and friendship
---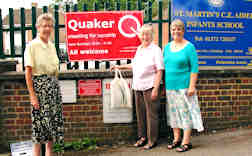 We are a small but lively Quaker community in Epsom, forming part of
South London Area Quaker Meeting
. Unlike our sister meetings at Sutton, Croydon, Purley and Streatham we do not have a meeting house of our own, but we did hold a public meeting for worship "after the manner of Friends" every Sunday
Our meetings are open to all, regardless of their personal beliefs and nominal religion (if any). Do feel free to join us without prior notice. You will find yourself warmly welcomed, but not confronted with ardent proselytising or pestered to come again if you do not find yourself at home with a meeting held largely in silence.
Covid-19
With deep regret we have decided to suspend all normal meetings for worship and other in-person gatherings until further notice.
Croydon and Sutton are both organising Meetings for Worship to be held via Zoom. We hope to make them as much like normal Sunday meeting as possible - arrive any time from 10:00, worship 10:30 to 11:30, then notices and chat afterwards - but you will have to supply your own refreshments!
How to connect:
My machine is zoom-capable, ie. it has a user-facing camera, microphone and speaker / headphone socket but zoom is not installed. Click on:
zoom.us/j/786763002 for Croydon or zoom.us/j/741463181 for Sutton.

My machine is zoom-capable and zoom is already installed. Go into zoom and join
Meeting Id 786 763 002 for Croydon or 741 463 181 for Sutton.

My machine is not zoom-capable. If you do not have zoom installed follow the instructions at 1. above. Or if you have it installed go to the meeting as per 2. above.
A box will then ask you to "choose one of the audio conference options". Select Phone Call. Pick up your phone, dial one of the numbers displayed and follow the prompts to enter Meeting Id and Participant Id.
You can see everyone on the screen while hearing what's going on through the phone.

My only means of communcicating is a POTS phone (POTS = plain old telephone service - but not so old that it has a rotary dial!).

Dial one of the following numbers:

0203 481 5240 United Kingdom
0131 460 1196 United Kingdom
0203 051 2874 United Kingdom
0203 481 5237 United Kingdom


(Find your local number: https://zoom.us/u/ac09P1GJdY)
When prompted, key in the Meeting Id as per 2. above followed by #
In reply to "Enter Participant Id …" just press #
That's it - you should be in.
It is normal to mute your phone, so everyone does not hear each other's background noises. Remember to unmute if you want to speak.
For those not familiar with using Zoom, I do recommend the advice on the Woodbrooke website at
woodbrooke.org.uk/about/online-mfw/Online-worship-advice
For further details or instructions contact Roger W. Haworth on 07754 469 167.