Welcome to Quakers in Epsom
Meeting in peace and friendship
---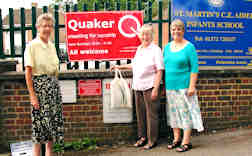 We are a small but lively Quaker community in Epsom, forming part of
South London Area Quaker Meeting
. Unlike our sister meetings at Sutton, Croydon, Purley and Streatham we do not have a meeting house of our own, but we did hold a public meeting for worship "after the manner of Friends" every Sunday
Our meetings are open to all, regardless of their personal beliefs and nominal religion (if any). Do feel free to join us without prior notice. You will find yourself warmly welcomed, but not confronted with ardent proselytising or pestered to come again if you do not find yourself at home with a meeting held largely in silence.
Back in business - sort of
Normal-ish Meeting for Worship in Croydon has resumed after the long closure due to the coronavirus restrictions. We look forward to welcoming the brave ones back to worship in person. However, this looks and feels different from usual, and is taking place in the meeting room with space for just twelve people to give more space for social distancing. The Common Room is being used for overflow. Both rooms are connected to those worshipping online.
If you have not been to meeting in person under these revised conditions, please contact Gillian Turner on 020 8688 9659 or 07805 087 981.
To keep everyone safe and healthy we ask you to read
these recommendations
carefully.
You have a choice
. Croydon and Sutton are both continuing to hold Meetings for Worship via Zoom. We try to make them as much like normal Sunday meeting as possible - arrive any time from 10:00, worship 10:30 to 11:30, then notices and chat afterwards - but you will have to supply your own refreshments!
Warning - passcode
Croydon Virtual Meeting House now requires a passcode to enter it but it is as a simple as we could make it:
Q
just capital Q for Quaker.
How to join Croydon Virtual Meeting House
Note. You do not need to have a Zoom account to participate in a Zoom meeting. (The key phrase is "join a meeting", not "sign in" or "sign up".)
For further details or instructions contact Roger W. Haworth on
07788 756 745
.
For those not familiar with using Zoom, we recommend
this advice
on the Woodbrooke website.
See also (each opens in a new window):
and phone number for further information about our meetings and facilities
South London Area Quaker Meeting for associated Quaker meetings in the same area
London Quakers for more about Quaker meetings and activities in Greater London
Quakers for general information about Quakers in Britain and around the world
---