Quakers in Epsom
Thank you for visiting us!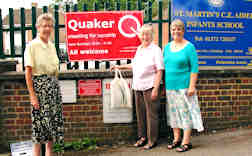 We are a small but lively Quaker community in Epsom, forming part of South London Area Quaker Meeting. Unlike our sister meetings at Sutton, Croydon, Purley and Streatham we do not have a meeting house of our own, but we do hold a public meeting for worship "after the manner of Friends" every Sunday from 10:30 to 11:30 am at St Martins C of E Infants School, Worple Road, Epsom, Surrey KT18 7AA.
Our meetings are open to all, regardless of their personal beliefs and nominal religion (if any). Do feel free to join us without prior notice. You will find yourself warmly welcomed, but not confronted with ardent proselytising or pestered to come again if you do not find yourself at home with a meeting held largely in silence.
How to reach us
By bus Stop M, by the Methodist Church
By train 15 minutes walk from Epsom mainline station
By car Parking available.
See also (each opens in a new window):
and phone number for further information about our meetings and facilities
South London Area Quaker Meeting for associated Quaker meetings in the same area
London Quakers for more about Quaker meetings and activities in Greater London
Quakers for general information about Quakers in Britain and around the world
---